LOCATION HOTEL INGLATERRA
Hotel Inglaterra is located in the old town of Granada, a 5-minute drive from the Alhambra, just 20 metres from the Cathedral and the Royal Chapel, 500 metres from Plaza Nueva, the Arab Baths of Granada and the Gran Vía de Colón. A 10 minute walk will take you to the fantastic Palace of Charles V.
It is in an area where you can find restaurants, cafes and tapas bars, which is ideal to get to know the best atmosphere of Granada.
The centre of Granada has restricted access, so here is the best way to get to our hotel.
Simply follow these directions; DO NOT use GPS systems.
We have a public car park, Parking San Agustín. The price is 25 € per day to be paid at the hotel reception. Reservation is not possible, subject to availability on arrival.
Please provide vehicle details (number plate) on arrival at the hotel.
Restricted access roads, but these streets (exclusively) allowed for the hotel. All other city signs (traffic lights, bus lanes, etc.) must be respected.
HOW TO GET TO THE HOTEL INGLATERRA?
From Málaga-Sevilla (A92):
1º – Take EXIT 230 – Santa Fe/Granada (Connection with Motorway A92 G).
Cross Santa Fe and continue until the connection with the A44 Motorway, towards Motril / Sierra Nevada.
2º – Take EXIT 125 – Motril / Sierra Nevada (Connection with Motorway A44).
3rd – Take EXIT 128 – Méndez Núñez/Centro (Access to the City Centre).
1º – Take the A44 motorway towards Motril – Sierra Nevada.
2º – Take EXIT 128 – Centro/Méndez Núñez (Acceso Centro Ciudad).
From The Coast-Motril (A44):
1º – Direction Granada/Jaén/Madrid.
2º – EXIT 128 – Centro/Méndez Núñez (City Centre Access).
· Once we take exit 128 "Centro/Méndez Núñez" we will go up the street in the direction of Avenida Fuente Nueva.
· Once we take exit 128 "Centro/Méndez Núñez", we will continue straight on along this same avenue, followed by Avenida Fuente Nueva and then enter the tunnel of Av. Madrid (in the right lane) and at the exit turn right into Calle Ancha de Capuchinos.
· Just at the end of this street we will continue straight on to enter Av. Capitán Moreno, passing through Pl. del Triunfo, then through the Arco de Elvira and continue along Calle Elvira until the end.
· When you see the sign "No entry except access to Hotels" you must press the intercom to ask for passage.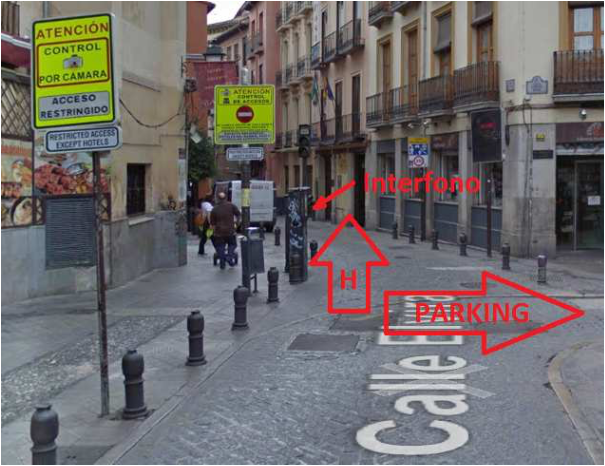 · We will continue straight on until the end of the street (corner with Plaza Nueva) and after the traffic lights we will turn right, and then right at the next traffic lights to enter Gran Vía de Colón.
· Once in Gran Vía, you can go directly to our hotel, turning on the second street on your right, taking as a reference a branch of Banco Sabadell and you will enter Cettie Meriem Street, where you will see our Hotel.
· Our street is very narrow, so we recommend going slowly to avoid passing it.